Mohamad Fallahnia
Mohamad Fallahnia
(Shiraz_Iran)
Biography of Mohamad Fallahnia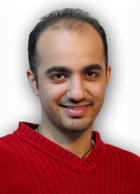 Hi.
I am a Persian modern poet.I live in Iran(Persia) .My poems are all in Persian(Farsi) language...I'll try to translate some of them to English and upload them on this site.

Mohamad Fallahnia's Works:

I'm trying now to publishing 'Arthure Rimboud' the great Frnech poet, poems and biography in Iran...I am translae some of his letter's to Persian for the first time.