Molly Stewart
Molly Stewart
(1/4/1986 / Carrollton Texas)
Biography of Molly Stewart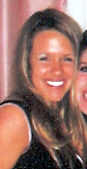 I'm 18 years old. I find poetry interesting, I have for about 5 years now. I write when I am inspired, usually by emotions I feel are too strong to hold in. I'm by no means experienced but I feel better after jotting down whatever it is I am feeling at the time.
If you read a poem of mine or have advice you'd like to give me- it doesn't matter if it pretains to my poem or not- feel free to email me at MsMollyMac@yahoo.com
thanks!

Molly Stewart's Works:

pfft yeah right...hopefully one day!
Molly Stewart Poems
Your Love Is Peace
The night has wrapped us up in it's blanket of stars, Your beauty can only be compared to that of the giant pearl in the sky, It's light falls into the crevices of your lips and my eyes become green with envy. Just to be held for one second within your kiss,
All poems of Molly Stewart »
Share your comments »
Your Love Is Peace
The night has wrapped us up in it's blanket of stars,
Your beauty can only be compared to that of the giant pearl in the sky,
It's light falls into the crevices of your lips and my eyes become green with envy.
Just to be held for one second within your kiss,
Imaginative words drip from your kind tongue,
Never before have I experienced such peace
Your love is the only true peace in this world