Mona Van Duyn
Biography of Mona Van Duyn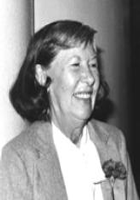 Mona Jane Van Duyn (May 9, 1921 – December 2, 2004) was an American poet. She won every major American award for poetry and was appointed Poet Laureate Consultant in Poetry to the Library of Congress in 1992. Van Duyn was born in Waterloo, Iowa. She grew up in the small town of Eldora where she read eagerly in the town library and wrote poems secretly in notebooks from her grade school years to her high school years. Van Duyn earned a B.A. from Iowa State Teachers College in 1942, and an M.A. from the State University of Iowa in 1943, the year in which she married Jarvis Thurston. She and Thurston studied in the Ph.D. program at Iowa. In 1946 she was hired as an instructor at the University of Louisville when her husband became an assistant professor there. Together they began Perspective: A Quarterly of Literature and the Arts in 1947 and shifted that journal to Washington University in St. Louis when they moved there in 1950.

Academic career
In St. Louis, Thurston became chair of the Washington University Department of English, and Van Duyn and Thurston drew to St. Louis and presided over what would become a unique literary circle of creative writers and critics.

Van Duyn was a friend of poet James Merrill and instrumental in securing his papers for the Washington University Special Collections in the mid 1960s. She was a lecturer in the University College of Washington University until her retirement in 1990. In 1983, a year after she had published her fifth book of poems, she was named Adjunct Professor in the English Department and became the "Visiting Hurst Professor" in 1987, the year she was invited to be a member of the National Institute of Arts and Letters.

Career as a poet
Van Duyn won every major U.S. prize for poetry, including the National Book Award (1971) for To See, To Take, the Bollingen Prize (1971), the Ruth Lilly Poetry Prize (1989), and the Pulitzer Prize (1991) for Near Changes. She was the U.S. Poet Laureate between 1992 and 1993.
To See, To Take (1970) was a collection of poems that gathered together three previous books and some uncollected work and won the National Book Award for Poetry. In 1981 she became a fellow in the Academy of American Poets and then, in 1985, one of the twelve Chancellors who serve for life. A recent Collected Poems, If It Be Not I (1992) included four volumes that had appeared since her first collected poems. It was published simultaneously with a new collection of poetry, Firefall.
In 1993 she was inducted into the St. Louis Walk of Fame. She died of bone cancer at her home in University City, Missouri, on December 2, 2004, aged 83.
From Endings
Setting the V.C.R. when we go to bed
to record a night owl movie, some charmer we missed
we always allow, for unprogrammed unforeseen,
an extra half hour. (Night gods of the small screen
are ruthless with watchers trapped in their piety.)
We watch next evening, and having slowly found
the start of the film, meet the minors and leads,
enter their time and place, their wills and needs,
hear in our chests the click of empathy's padlock,