MONCIANA EDMONDSON
MONCIANA EDMONDSON
(Jamaica, West Indies)
Biography of MONCIANA EDMONDSON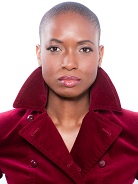 Monciana was born in the West Indies and immigrated to New York City when she was 17 years old. She is an alumnus of Herbert H. Lehman College in the Bronx, where she played Div III basketball and earned a BA in History.

She is curious about life and is always seeking the lessons in everyday occurrences. She is currently a model and actress.
Black Beauty
Black beauty stares at me,
I am amazed to see
In her eyes: my liberty.
Her eyes are like mine, but softer,
Despite the scars she proudly bears,
All earned protecting me from fears and snares.

Born in the motherland centuries ago;
She has survived the slave master's blow.