MONCIANA EDMONDSON
MONCIANA EDMONDSON
(Jamaica, West Indies)
Biography of MONCIANA EDMONDSON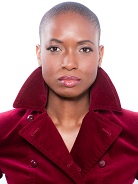 Monciana was born in the West Indies and immigrated to New York City when she was 17 years old. She is an alumnus of Herbert H. Lehman College in the Bronx, where she played Div III basketball and earned a BA in History.

She is curious about life and is always seeking the lessons in everyday occurrences. She is currently a model and actress.
Fly
You who deceptively deceive
We who still believe
The Few who stay true
To love that continues to brew and renew.
To the few who know the truth,
There is no quick fix in a touch and the meeting of lips,
Nor the pleasure to be found in the movement of hips
Not money nor fame,
Will ever douse that flame.