Moti Lal Saqi
Moti Lal Saqi
(1936 – 21 May 1999 / Bijbehara, Jammu & Kashmir / India)
Biography of Moti Lal Saqi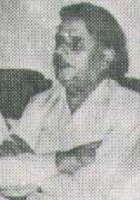 Moti Lal Saqi (Kashmiri: मोती लाल साक़ी (Devanagari), موتی لال ساقی (Nastaleeq)) was an Indian poet, writer, folklorist and researcher.

Born in 1936 at Bijbehara, Jammu & Kashmir, India, Moti Lal Saqi enriched Kashmiri language and literature in several ways, and emerged as a major poet and critic in the language.

Work as a Critic

Saqi worked as a literary critic also, including on Sheikh Nur-ud-Din (popularly known as Nund Rishi) and Sufi poets such as Samad Mir. As a folk-lorist, Saqi compiled five volumes of Kashmiri folk-songs. His numerous articles on Kashmiri literature, art and culture were published in several magazines and journals of the country.

Lexicography

Moti Lal Saqi was also a lexicographer. He worked as an editor of the Kashmiri-Kashmiri and Urdu-Kashmiri dictionaries brought out by the J&K Cultural Academy and also edited the three volumes of Kashmiri Encyclopedia published by the Academy.

His last book, Aagar Neb, was regarding various aspects of Kashmiri culture. He was awarded the Padma Shri for his services to Urdu literature.

Moti Lal Saqi was also associated with the activities of the N. S. Kashmir Research Institute and had agreed to work for the compilation of the encyclopaedia of Kashmiri culture which the Institute is going to bring out.

Death

Moti Lal Saqi died on May 21, 1999 in New Delhi after a heart attack. Earlier in March he had undergone surgery for a heart ailment at Jammu, and he had been recuperating at the home of his eldest son in Sarojini Nagar.
This page is based on the copyrighted Wikipedia Moti Lal Saqi; it is used under the Creative Commons Attribution-ShareAlike 3.0 Unported License. You may redistribute it, verbatim or modified, providing that you comply with the terms of the CC-BY-SA.
A Request
You
With the flute,
Inclined
To lie
By the Gunpowder
Hills,
Strike up
A mood,
Attune us