Muna Lee
Muna Lee
(29 January 1895 – 3 April 1965 / Raymond, Mississippi)
Biography of Muna Lee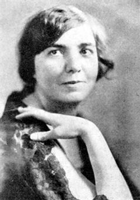 an American author and poet who became widely known for her writings that promoted Pan-Americanism and Feminism.

Born in Raymond, Mississippi, Lee began her writing career as a well-known lyric poet. As a translator and advocate of Latin American literature, she made major contributions to the modern Pan-American literary tradition.

As a feminist leader, Muna Lee made important contributions to the modern women's movement, in particular the struggle for equal rights. She was a founder of the Inter-American Commission of Women. It was in New York City that she met her future husband, a Puerto Rican poet and journalist by the name of Luis Muñoz Marín, who later would become the first democratically elected Governor of Puerto Rico. They were married on July 1, 1919 and during their union they had two children: daughter Muna Muñoz Lee (known as Munita) and son Luis Muñoz Lee. They were officially divorced on November 15, 1946, two years before Muñoz Marín would make history when he was elected governor. Had they remained married, Lee would have become the island's first lady.

From 1934 to 1938, Lee wrote five detective novels under the pen name Newton Gayle (co-authored with Maurice Guinness). They were well received at the time, particularly for their use of bilingual dialogue, and have been translated in French and Italian.

In 1941, she joined the U.S. State Department as an inter-American cultural affairs specialist. She died of lung cancer on April 3, 1965 in San Juan, Puerto Rico. She was laid to rest in Santa Maria Magdalena de Pazzis Cemetery in Old San Juan.
This page is based on the copyrighted Wikipedia Muna Lee; it is used under the Creative Commons Attribution-ShareAlike 3.0 Unported License. You may redistribute it, verbatim or modified, providing that you comply with the terms of the CC-BY-SA.
Caribbean Marsh
Acres of mangrove, crowding the sea-streaked marsh,
Acres of mangrove, wading toward the beaches,
And here and there a milky-white bloom tossed
On fragile boughs above the flooded reaches.
Mangrove thrusts deep in salty mud,
Balances uneasily upon its three-pronged roots,
Huddles from wind in its dissonance of leaves.
Tempest and drought it has withstood,
This straggling orchard that bears no fruits,