Nancy Willard
Biography of Nancy Willard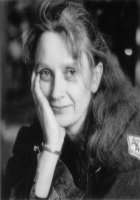 Nancy Willard (born June 26, 1936) is a novelist, a poet, and a children's writer and occasional illustrator. Her 1981 collection of poems, A Visit to William Blake's Inn, won the Newbery Medal as that year's most distinguished contribution to American children's literature.

Willard was born in Ann Arbor, Michigan, where she later received the B.A. and Ph.D. from the University of Michigan and won five Hopwood Awards for creative writing. She also studied at Stanford University, where she received her M.A.

Her first novel, Things Invisible to See (1985), is set in her home town of Ann Arbor in the 1940s. Two brothers become involved with a paralyzed young woman, and it "ends with a baseball game that anticipates the film Field of Dreams in its player lineup of baseball luminaries.[clarification needed] Susan Fromberg Schaeffer said the novel "has the quality of a fairy tale ... a paradigm of life as a Manichean conflict between good and evil.'"

As of 2005, Willard lives in Poughkeepsie, New York where she lectures at Vassar College.
This page is based on the copyrighted Wikipedia Nancy Willard; it is used under the Creative Commons Attribution-ShareAlike 3.0 Unported License. You may redistribute it, verbatim or modified, providing that you comply with the terms of the CC-BY-SA.
Nancy Willard Poems
A Wreath To The Fish
Who is this fish, still wearing its wealth, flat on my drainboard, dead asleep, its suit of mail proof only against the stream? What is it to live in a stream,
The Vanity of the Dragonfly
The dragonfly at rest on the doorbell— too weak to ring and glad of it, but well mannered and cautious,
Two Sunflowers Move In The Yellow Room
'Ah, William, we're weary of weather,' said the sunflowers, shining with dew. 'Our traveling habits have tired us.
All poems of Nancy Willard »
Share your comments »
A Wreath To The Fish
Who is this fish, still wearing its wealth,
flat on my drainboard, dead asleep,
its suit of mail proof only against the stream?
What is it to live in a stream,
to dwell forever in a tunnel of cold,
never to leave your shining birthsuit,
never to spend your inheritance of thin coins?
And who is the stream, who lolls all day
in an unmade bed, living on nothing but weather,