Biography of Nasidul Islam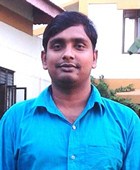 NASIDUL ISLAM is currently work as a District Programme Coordinator, Tripura Disaster Management Authority and also pursuing Ph.D., Department of Disaster Management, Pondicherry University, Brookshabad Campus, Port Blair, Andaman and Nicobar Islands. He was complete M.Sc. in Disaster Management from Pondicherry University and B.A. Geography from Aligarh Muslim University, Aligarh, UP.He has passed all the examination from 10 to M.Sc. with first division.

Nasidul Islam's Works:

He have been written three articles in English entitles are "Turning to The Red World", "The Stream Impact of Climate Change on Indian Agriculture" And "Rape is a Social Crime" published in university magazine. He have been also written more than 200 poems,25 prose and 20 short stories in Bengali language. Among all "The Green Inland Andaman's" Rape is a social crime" and Turning to the red world" is an excellent and beautiful work of him.
O Go Sundari
O go sundari raj kanya kamon acho bolo
alta paye duliye kamor atkhani cholo.
Dekhte pori, chlate durum chamak payer tal
Ai to bujhi periye ale sholer adhik shal
golap ranga thot tomar, kaloj kalo chul
sundari go chinte tomay karini ko vul.
Tana tana chok tomar `kajol kano aaka
Taito tumi lukiye thako deona more dekha.
Hoyto tumi bhabcho mane bolbo katha age