Nasir Kazmi
Nasir Kazmi
(8 December 1925 - 2 March 1972 / Ambala / British India)
Biography of Nasir Kazmi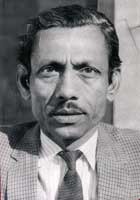 Syed Nasir Raza Kazmi (Urdu: سید ناصر رضا كاظمی ) was a renowned Urdu poet of Pakistan. He was one of the greatest poets of this era, especially in the use of "ista'aaray" and "chhotee beher". Kazmi was born on December 8, 1925 at Ambala in British India.

Education and Career

Kazmi was educated at Ambala, Simla and Lahore. He returned to Ambala in 1945 and started looking after his ancestral land. After the creation of Pakistan in 1947, he came to Lahore.

He did some journalistic work with Auraq-e-Nau as an editor and became editor-in-chief of the magazine Humayun in 1952. Later he was associated with Radio Pakistan, Lahore and other literary publications and organizations.
Nasir Kazmi started his poetic life in 1940 by following the style of Akhtar Sherani and wrote romantic poems and sonnets. Later he began writing ghazals under the guidance of Hafeez Hoshyarpuri. He was a great admirer of Mir Taqi Mir and probably the melancholy and "Ehsaas-e-Mehroomi" in his poetry was a direct result of that. His tutor in poetry was Hafeez Hoshyarpuri, who himself used a lot of symbols from nature in his poems.

Nasir, few days before his death, said in a TV interview by Intezaar Hussain, that
'horse riding, hunting, wandering in a village, walk along the river side, visiting mountains etc. were my favourite pastimes and probably this was the time when my mind got nourishment for loving nature and getting close to the expression of poetry. All my hobbies are related with fine arts, like singing, poetry, hunting, chess, love of birds, love of trees etc... I started poetry because I used to reflect that all the beautiful things those I see, and those in nature are not in my hands, and they go away from me. Few moments, that time which dies, cannot be made alive. I think can be alive in poetry, that is why I (Nasir) started poetry!'

Nowadays, very few people may remember that Nasir used to hum his poetic verses and that humming had much attraction in it. He migrated from Ambala, India to Lahore Pakistan in August 1947. He also worked as a Staff Editor in Radio Pakistan. He used to sit at Tea House and wander at Mall Road, Lahore with his friends. He was fond of eating, wandering and enjoying life. Normally people take him as a sad poet but most of his poetry is based on romantic happiness and the aspect of hope.

His last four books were published after his death. He died in Lahore on March 2, 1972 due to stomach cancer. Few people know that he did some great translations of English poets, especially his translation of Walt Whitman's "Crossing Brooklyn Ferry" by the title of "Brooklyn Ghaat Ke Paar" is a real masterpiece and worth reading.

Nasir Kazmi's Works:

Barg-e-Nae (1952)
Deewaan (1972)
Pehli Baarish (1975)
Nishat-e-Khwab (Collection of nazms, 1977)
Sur Ki Chhaya (Manzoom Drama, Katha 1981)
Khushk Chashme ke Kinare (Prose, 1982 edited by Basir Sultan Kazmi & Hassan Sultan Kazmi, New Edition 1990, essays, radio features, dialogues, editorials, last interview etc.)
Nasir Kazmi Ki Dairy (Chand Pareshan Kaghaz) (Autobiography, 1995 compiled by Hassan Sultan Kazmi)
Intekhab-e-Meer (poetry 1989)
Intekhab-e-Nazeer (poetry 1990)
Intekhab-e-Wali Dakni (poetry 1991)
Intekhab-e-Insha (poetry 1991)
'Intekhabs' of other poets
This page is based on the copyrighted Wikipedia Nasir Kazmi; it is used under the Creative Commons Attribution-ShareAlike 3.0 Unported License. You may redistribute it, verbatim or modified, providing that you comply with the terms of the CC-BY-SA.
Forgotten Tales
The waters of the pleasant flows
Murmur old forgotten tales.

Here was a jungle before the populace.
So I have heard the people say.

There was a city of décor, fashion.
Time, alas, has left no sign.