Natalya Gorbanevskaya
Biography of Natalya Gorbanevskaya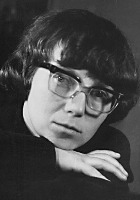 Natalya Yevgenyevna Gorbanevskaya (26 May 1936 – 29 November 2013) was a Russian poet, translator of Polish literature and civil rights activist. In 2005, she became a citizen of Poland.

Gorbanevskaya was born in Moscow and graduated from Leningrad University in 1964 and became a technical editor and translator. Only nine of her poems were published in official journals, the remainder being privately circulated or published abroad.

Gorbanevskaya was active in what later came to be called the Soviet "dissident movement." She and Liudmila Alexeyeva began publishing the Chronicle of Current Events, a samizdat publication that focused on human rights in the Soviet Union. Gorbanevskaya was also one of eight protesters in the 1968 Red Square demonstration on 25 August 1968 against the Soviet invasion of Czechoslovakia. Having recently given birth, she was not immediately tried with the other demonstrators. She used this time to publicly follow the trial in the Chronicle of Current Events, and later published the related documents as the collection Noon (published abroad as Red Square at Noon). However, she was arrested in December 1969 and imprisoned in a Soviet psychiatric prison until February 1972.

In December 1975, Gorbanevskaya emigrated to Paris. There, French psychiatrists at their request examined Gorbanevskaya and found her to be mentally normal. They concluded that in 1969-72 she had been committed to a psychiatric hospital for political, not medical reasons.

She was stateless for three decades until Poland granted her citizenship in 2005.

Joan Baez released a song dedicated to Gorbanevskaya called "Natalia", with lyrics by Shusha Guppy, on the live album From Every Stage (1976). Introducing the song, Baez criticized Gorbanevskaya's internment in the psychiatric hospital and said: "It is because of people like Natalya Gorbanevskaya, I am convinced, that you and I are still alive and walking around on the face of the earth." Shusha Guppy herself also recorded it; it was included in her 1974 album "Shusha."

In 2005 Gorbanevskaya participated in "They Chose Freedom", a four-part television documentary on the history of the Soviet dissident movement.

In 2008, October, Gorbanevskaya received the Award of Marie Curie.

The same year, Gorbanevskaya was scheduled for the Angelus Central European Literature Award.

In August 2013, Gorbanevskaya participated in a rally in Moscow to commemorate the forty-fifth anniversary of the invasion of Czechoslovakia; the rally was quickly dissolved by police, and ten participants (excluding Gorbanevskaya) were taken into custody.

On 22 October 2013 she received an honorary medal from Charles University in Prague for her lifelong commitment to the struggle for democracy, freedom and human rights.

She was a signatory of the Prague Declaration on European Conscience and Communism.

On 29 November 2013, Gorbanevskaya died in her house in Paris.
Natalya Gorbanevskaya Poems
This, From The Diagnosis
"The children's fate doesn't bother her."

This, from the diagnosis,
rings out like a silvery clarinet,
has lost the colour of danger,
but my memory's not been wiped clean of it.

It's good when the breathing in the next room
is my sons' and not a cell-mate's;