Neal Cassady
Biography of Neal Cassady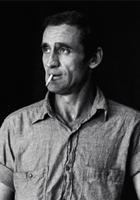 Neal Leon Cassady (February 8, 1926 – February 4, 1968) was a major figure of the Beat Generation of the 1950s and the psychedelic movement of the 1960s. He served as the model for the character Dean Moriarty in Jack Kerouac's novel On the Road.

Cassady was born to Maude Jean Scheuer and Neal Marshall Cassady in Salt Lake City, Utah. After his mother died when he was ten, he was raised by his alcoholic father in Denver, Colorado. Cassady spent much of his youth living on the streets of skid row with his father, or spending time in reform school.

As a youth, Cassady was repeatedly involved in petty crime. He was arrested for car theft when he was 14, for shoplifting and car theft when he was 15, and for car theft and fencing when he was 16.

In 1941, the 15-year old Cassady met Justin W. Brierly, a prominent Denver educator. Brierly was well known as a mentor of promising young men, and, impressed by Cassady's intelligence, Brierly took an active role in Cassady's life over the next few years. He helped admit Cassady to East High School where he taught, encouraged and supervised his reading, and found employment for him. Cassady continued his criminal activities, however, and was repeatedly arrested from 1942 to 1944; on at least one of these occasions, he was released by law enforcement into Brierly's safekeeping. In June 1944, Cassady was arrested for receipt of stolen property, and served eleven months of a one-year prison sentence. He and Brierly actively exchanged letters during this period even through Cassady's intermittent incarcerations; these represent Cassady's earliest surviving letters. Brierly, apparently a closeted homosexual, is also believed to have been responsible for Cassady's first homosexual experience.