Nicholas Christopher
Biography of Nicholas Christopher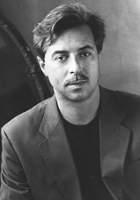 Nicholas Christopher (born 1951) is an American novelist, poet and critic, the author of sixteen books: six novels, eight volumes of poetry, a critical study of film noir, and a novel for children.
Christopher graduated from Harvard College with an A.B. in English Literature. After traveling extensively abroad, he returned to New York and began publishing his work. He taught at New York University and Yale before receiving an appointment as a professor on the permanent faculty of the Writing Program of the School of the Arts at Columbia University. From the 1970s, his work has appeared in The New Yorker, Esquire, The New Republic, The Paris Review, The Nation, and The New York Review of Books. Among his honors are fellowships from the John Simon Guggenheim Foundation, the National Endowment for the Arts, the Academy of American Poets, and the Poetry Society of America.
Christopher is the author of six novels, eight books of poetry, a study of film noir and the American city, a novel for children, and has edited two poetry anthologies. Christopher's sixth novel, Tiger Rag, was published by the Dial Press in January 2013. His novel for children, The True Adventures of Nicolo Zen, was published by Alfred A. Knopf in January 2014.
His novels have been translated into fourteen foreign languages. In the United States, his first novel was published by Viking Penguin and all his subsequent novels by the Dial Press. His poetry publishers have been Alfred A. Knopf, Viking Penguin, and Harcourt. His major characters have included a young concert pianist, a magician's daughter, a nurse on a hospital ship off Vietnam, an orphan raised in a hotel filled with miraculous characters in Las Vegas, an inventor during the Great Depression and a compiler of bestiaries. His eight collections include many verse forms from haiku to a novella in verse.
Lake Como
The searchlight of a February moon
at the end of the street

bare trees black railing
an eastern star set like a pearl atop a steeple

that shadows the doorway
where the one-armed card shark squats