nikki hays
nikki hays
(30th October 1971 / croydon, victoria, Australia)
Biography of nikki hays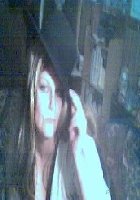 As a child i was always the 'odd one out', i would spend more time reading and writing poetry and stories than i would playing with the other kids in the schoolyard. By the time i had reached high school, i had become quiet a confident writer and while other kids were spending their weekends at parties, i was rehearsing for shakespearean recitals and writing new poems for the next competition that would arise. I had spent many hours with my great grandmother learning the fine art of the english language and listening night after night during my school holidays to stories from the second world war.
It is to her most of my military and historical writings are dedicated.
I appreciate not all of my work is suited to every reader due to the variants in it, so please, if you dont like the first one you read dont be disheartened, these are my moods, feelings, emotions and thoughts on life, enjoy.
I Haunt Your Dreams
Evil grin slither thin
Power hungry lets begin
Battle faught
and battle won
until the death
there must be one
one is slain
but as he falls
others heed