Nikky Finney
Biography of Nikky Finney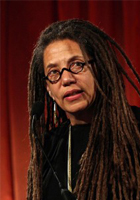 Nikky Finney (born Lynn Carol Finney on August 26, 1957 in Conway, South Carolina) is an American poet. She was the Guy Davenport Endowed Professor of English at the University of Kentucky for twenty years. In 2013, she accepted a position at the University of South Carolina as the John H. Bennett, Jr. Chair in Southern Letters and Literature. An alumna of Talladega College, and author of four books of poetry and a short story cycle, Finney is an advocate for social justice and cultural preservation. Her honors include the 2011 National Book Award for Head Off & Split.

One of three children, Finney is the only daughter of Ernest A. Finney, Jr., Civil Rights Attorney and retired Chief Justice of the state of South Carolina, and Frances Davenport Finney, elementary school teacher. Finney's father began his career as a civil rights attorney, and in 1961, served as Head Legal Counsel for the Friendship 9, black junior college students arrested and charged when trying to desegregate McCrory's lunch counter in Rock Hill, South Carolina. In 1994, Ernest Finney, Jr., was appointed by the State Legislature as the first African-American Chief Justice of South Carolina since Reconstruction. Both of Finney's brothers are attorneys in South Carolina: her older brother, Ernest "Chip" Finney, III, elected Solicitor of the Third Judicial Circuit, and her younger brother, Jerry Leo Finney, in private practice in Columbia, SC.

Both Finney's parents were raised on the family-owned land: Justice Finney on a farm in Virginia, and Frances Davenport Finney on a farm in Newberry, SC. Themes of the African-American relationship to the land surface throughout Finney's work.

Educated first in Catholic grade school, and then in South Carolina public schools during the riotous struggle over integration, Finney was anchored in her youth by her maternal grandmother Beulah Lenorah Butler Davenport and by the inimitable constancy of the nearby South Carolina sea. A bookworm in childhood, she composed poetry and acquired the nickname "Nikky", likely in reference to poet Nikki Giovanni, who would later become a friend and mentor. Graduated from Sumter High School in 1975, Finney matriculated at Talladega College, an HBCU in Alabama, where she was mentored by Dr. Gloria Wade Gayles, poet and essayist.

After studying with Dr. Howard Zehr and graduating from Talladega College in 1979, Finney began her artistic career as a photographer. Finney committed to documenting the trajectory of African-American contributions to American creativity and culture. In Alabama, Finney continued to advance as an autodidactic poet and creative artist.

Finney matriculated at Atlanta University, working in the African-American Studies department, under African-American historians Dr. Richard Long and Dr. David Dorsey. While in Atlanta, Finney joined the Pamoja Writing Collective, the community writing workshop led by Toni Cade Bambara. Finney also immersed herself in study of the poetry and visual arts of the Black Arts Movement. Ultimately, limited potential for creative work in academic programs caused Finney to abandon the constraints of graduate study and return to Talladega to work as a photographer. Hired as photographer and reporter by Byllye Y. Avery, for the newly organized, Atlanta-based National Black Women's Health Project, Finney traveled to Nairobi, Kenya, for the End of the Decade of Women Conference in 1985, and covered the historic UN conference for the National Black Women's Health Project.
The Afterbirth, 1931
We were a Colored Clan of Kinfolk
Who threw soil not salt
Over our shoulders
Who tendered close the bible
Who grew and passed around the almanac at night
So we would know
What to plant at first light

Black soil and sweet brown sorghum