Nikola Vaptsarov
Biography of Nikola Vaptsarov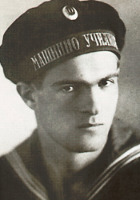 Nikola Yonkov Vaptsarov was a Bulgarian poet, communist and revolutionary. He was born in Bansko to a Bulgarian militant father and a Protestant mother. Trained as a machine engineer at the Naval Machinery School in Varna, later Naval Academy, he worked machinist jobs most of his life and wrote in his spare time. His only released book of poetry is Motoring Verses (1940). Because of his underground communist activity against the government of Boris III and the German troops in Bulgaria, he was arrested and executed by a firing squad.

In 1949, the Bulgarian Naval Academy was renamed Nikola Vaptsarov Naval Academy. In 1952, he received posthumously the International Peace Award. His Selected Poems were published in London in 1954, by Lawrence & Wishart, translated into English with a foreword by British poet Peter Tempest. His poetry has been translated in 98 languages throughout the world. Vaptsarov Peak in eastern Livingston Island, Antarctica is named after the famous Bulgarian poet.

His only released book of poetry is Motoring Verses (1940).
This page is based on the copyrighted Wikipedia Nikola Vaptsarov; it is used under the Creative Commons Attribution-ShareAlike 3.0 Unported License. You may redistribute it, verbatim or modified, providing that you comply with the terms of the CC-BY-SA.
Faith
Here am I-breathing,
Working,
Living
And Writing my poetry
(My best to it giving).
Life and I glower
Across at each other,
and with it I struggle
with all my power