Nikolay Alekseyevich Nekrasov
Biography of Nikolay Alekseyevich Nekrasov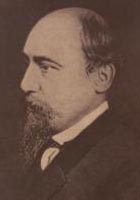 Nekrasov was a Russian poet and journalist. His first collection of poems - Dreams and Sounds was published in 1840. His second collection The Poems of Nikolay Nekrasov (1856) brought him great success.

In 1847-1866 he held the post of the editor-publisher of the magazine "Sovremennik" ("Contemporary"). His writings represented the life of common people of cities, the life of Russian peasantry, and the destiny of Russian women. His poems Red-Nosed Frost Grandfather (1864), Russian Women (1871-1872), Who lives happy in the Russia(1866-1876).

Nekrasov's poetry was closely connected with folklore and had a great influence upon the Russian literature. The last years of his life are dedicated to the magazine "Otechestvennie zapiski" (Fatherland's notes).
This page is based on the copyrighted Wikipedia Nikolay Alekseyevich Nekrasov; it is used under the Creative Commons Attribution-ShareAlike 3.0 Unported License. You may redistribute it, verbatim or modified, providing that you comply with the terms of the CC-BY-SA.
Freedom
Oft through my native land I roved before,
But never such a cheerful spirit bore.

When on its mother's breast a child I spy--
Hope in my inmost heart doth secret cry,

'Boy, thou art born within a favoring time,
Thine eyes shall glad escape old sights of crime.