Nirmalendu Goon
Biography of Nirmalendu Goon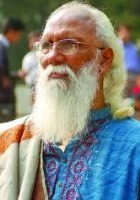 Nirmalendu Goon (Bengali: নির্মলেন্দু গুণ)is a Bangladeshi poet, and one of the most popular poets in Bangladesh, lauded by many for his accessible verse in an age where Bangla poetry has become increasingly complex.

Early Life

Nirmalendu Goon was born in Barhatta in Netrokona, in undivided India, now in Bangladesh.

Goon was one of the few people who openly protested Sheikh Mujibur Rahman's assassination in 1975 in a period when even mentioning Mujib was considered dangerous.

Poetry

His first book of poetry was published in 1970. Since then he has published forty-five collections of poetry and twenty collections of prose. Part of the generation of poets of 1960s, Goon's poetry contains stinging criticism of the nouveau riche and a touching description of the contrasting fate of the masses. A love of freedom and faith in the human spirit also permeates many of his poems. An avowed Marxist, Goon has also written poems urging an upheaval of the poor against the rich. He also has written a number of poems on important personalities, including Rabindranath, Sheikh Mujib, Lenin, Shakti Chattopadhyay and others.

Painting

He drew the cover of his first book of poetry. In late years he started to paint on a regular basis. The first exhibition of his paintings was held in the seminar room of Public Library, Dhaka in July 2009.

Awards

Bangla Academy Award (1982)
Ekushey Padak (2001)

Trivia

Quote: "Poem is similar to the playing of cricket. A good batsman likes to wait for a good ball to hit, so a good poet always waits for a good line to surface and be recorded."
Poet Sa'd Bin Ard is a great fan of Nirmalendu Goon.

In her recent autobiography, Taslima Nasrin, relates that Nirmalendu Goon acknowledged being a dacoit in his youth.

Nirmalendu Goon's Works:

Ānandaudyāna (1995)
Bhrami deśe deśe (2004)
Caitrera bhālobāsa (1975)
Cirakālera bām̐śi (1986)
Dhābamāna hariṇera dyuti (1992)
Dūra ha duḥśāsana (1983)
Gadyasamagra (1997) I
Gīnasabārgera saṅge (1994)
Kābyasamagra (1992-1993)
Muthophone'r Kabbo (2003)
Nā premika, nā biplabi (1972)
Nāma diẏechi bhālobāsa (1998)
Nirañjanera pr̥thibi (1986)
Nirbācita (2000)
Nirguṇera jārṇāla (1987)
Nirmalendu Guṇera premera kabita (1987)
Nirmalendu Guṇera rājanaitika kabitā (1989)
Pañcāśa sahasra barsha (1995)
Premāṃśura rakta cāi (1970)
Priẏa nārī hārāno kabitā (1996)
Pr̥thibījoṛā gāna (1982)
Racanā 2000 (2001)
Raktajharā Nabhembara 1975 (1997)
Śaktismr̥ti o anyānya (1997)
Selected poems of Nirmalendu Goon / edited with an introduction by Khondakar Ashraf Hossain (2001)
Śiẏare Bāṃlādeśa (1998)
Tāra āge cāi samājatantra (1979)
Yakhana āmi bukera pān̐jara khule dān̐rāi (1989)
This page is based on the copyrighted Wikipedia Nirmalendu Goon; it is used under the Creative Commons Attribution-ShareAlike 3.0 Unported License. You may redistribute it, verbatim or modified, providing that you comply with the terms of the CC-BY-SA.
What Sin Would Redeem Me
I have never tasted the fruit
of the forbidden tree,
I have been waiting. waiting.
like the sea that waits for the river,
or the river for the surging tide,
in the remote hope
that a feeling would curt up
from within the rocks
and set my heart ablaze with passion.