Norman Dubie
Biography of Norman Dubie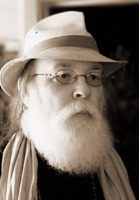 Norman Dubie (born April 10, 1945 Barre, Vermont) is an American poet.
He is the author of more than eighteen books, often assuming historical personae in his works. Dubie's poetry has been included in The New Yorker, Ploughshares, The Paris Review, FIELD, and Blackbird, an online journal of literature and the arts.
A recipient of numerous fellowships (including the National Endowment for the Arts and the Ingram Merrill Foundation) and awards, Dubie is a graduate of Goddard College and the Iowa Writer's Workshop. He teaches in the graduate Creative Writing Program at Arizona State University, in Tempe AZ, where he is Regents Professor of English.
The Tucson-based band Calexico have stated that Dubie's poetry was very influential on their album Carried to Dust, particularly the song "Two Silver Trees".
Confession
The General's men sit at the door. Her eyes
Are fat with belladonna. She's naked
Except for the small painted turtles
That are drinking a flammable cloud
Of rum and milk from her navel.

The ships out in the harbor
Are loosely allied
Like casks floating in bilge.