Norman Mailer
Norman Mailer
((1923-2007) / Long Branch, New Jersey, United States)
Biography of Norman Mailer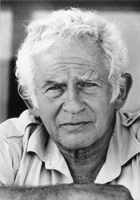 Norman Kingsley Mailer (January 31, 1923 – November 10, 2007) was an American novelist, journalist, essayist, playwright, film maker, actor and political candidate. His best work was widely considered to be The Executioner's Song, which was published in 1980, and for which he won one of his two Pulitzer Prizes. In addition to the Pulitzer Prize, Mailer's book Armies of the Night was awarded the National Book Award.

Along with the likes of Truman Capote, Hunter S. Thompson and Tom Wolfe, Mailer is considered an innovator of creative nonfiction, a genre sometimes called New Journalism, which superimposes the style and devices of literary fiction onto fact-based journalism.

In 1955, Mailer and three others founded The Village Voice, an arts and politics oriented weekly newspaper distributed in Greenwich Village.

Norman Kingsley Mailer was born to a well-known Jewish family in Long Branch, New Jersey. His father, Isaac Barnett Mailer, was a South African-born accountant, and his mother, Fanny Schneider, ran a housekeeping and nursing agency. Mailer's sister, Barbara, was born in 1927. His second sister, Norma, was born in 1930. Raised in Brooklyn, New York, he graduated from Boys' High School and entered Harvard University in 1939, when he was just 16 years old, and studied aeronautical engineering. At Harvard, he became interested in writing and published his first story at the age of 18, winning Story magazine's college contest in 1941. As an undergraduate, he was a member of The Signet Society. After graduating in 1943, he was drafted into the U.S. Army. In World War II, he served in the Philippines with the 112th Cavalry. He was not involved in much combat and completed his service as a cook, but the experience provided enough material for The Naked and the Dead.