Norman Rowland Gale
Biography of Norman Rowland Gale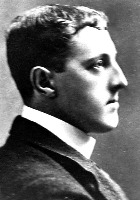 Norman Rowland Gale (4 March 1862 – 7 October 1942) was a poet, story-teller and reviewer, who published many books over a period of nearly fifty years.

His best-known poem is probably The Country Faith, which is in the Oxford Book of English Verse.
This page is based on the copyrighted Wikipedia Norman Rowland Gale; it is used under the Creative Commons Attribution-ShareAlike 3.0 Unported License. You may redistribute it, verbatim or modified, providing that you comply with the terms of the CC-BY-SA.
The Hidden Wealth
Adam and Eve together stood
Amid the crop they both were tending,
While far away the feathery wood
Of Eden in the wind was bending.

And Adam, feeling in his veins
The better for his splendid tussle,
Laughed at his body for its pains,
And showed to Eve his hardening muscle.