Norman Rowland Gale
Biography of Norman Rowland Gale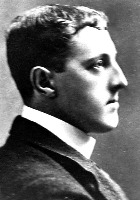 Norman Rowland Gale (4 March 1862 – 7 October 1942) was a poet, story-teller and reviewer, who published many books over a period of nearly fifty years.

His best-known poem is probably The Country Faith, which is in the Oxford Book of English Verse.
This page is based on the copyrighted Wikipedia Norman Rowland Gale; it is used under the Creative Commons Attribution-ShareAlike 3.0 Unported License. You may redistribute it, verbatim or modified, providing that you comply with the terms of the CC-BY-SA.
The Great Beech
With heart disposed to memory, let me stand
Near this monarch and this minstrel of the land,
Now that Dian leans so lovely from her car.
Illusively brought near by seeming falsely far,
In yon illustrious summit sways the tangled evening star.

From trembling towers of greenery there heaves
In glorious curves a precipice of leaves.
Superbly rolls thy passionate voice along,