Novalis
Biography of Novalis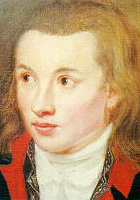 Georg Friedrich Philipp von Hardenburg (wrote under the pen name of Novalis) was born in Oberwiederstedt, Prussian Saxony, into a family of Protestant Lower Saxon nobility. His father was a director of a salt mine. At the age of ten Novalis was sent to a religious school but he did not adjust to its strict discipline. For some time Novalis lived with his uncle, grandseigneur, who opened him doors to French rationalism and culture. He then went to Weissenfels, where his father moved, and entered the Eisleben gymnasium. In 1790-91 he studied law at the University of Jena, where he met Friedrich von Schiller and Friedrich Schlegel. Novalis completed his studies at Wittenberg in 1793. The ideas of the French Revolution spread through Germany and Novalis dreamt of time when the "walls of Jericho" tumble down. Goethe's book Wilhelm Meister's Apprenticeship, which he read in 1795, influenced his deeply; he considered it the Bible for the "new age." In 1795-96 he studied the works of Johann Gottlieb Fichte. At the age of 21 he moved to Tennstädt and took up job in civil sevice.

In 1798 Novalis published a series of philosophical fragments, FRAGMENTEN. Novalis' only finished collection of poems, HYMNEN AN DIE NACHT (1800), was dedicated to his first great love Sophie von Kühn, who died in 1797. The death of his young fiancé, Sophie von Kühn, led him to write Hymnen an die Nacht (Hymns to the Night), a set of six prose and verse lyrics first published in 1800 in Athenaeum, a literary magazine edited by August Wilhelm Schlegel and his brother Friedrich Schlegel. Seven months after the publication of Hymns to the Night, Novalis died of tuberculosis, the same disease that had claimed his fiancé.
This page is based on the copyrighted Wikipedia Novalis; it is used under the Creative Commons Attribution-ShareAlike 3.0 Unported License. You may redistribute it, verbatim or modified, providing that you comply with the terms of the CC-BY-SA.
Hymns To The Night : 2
Must the morning always return? Will the despotism of the earthly never cease? Unholy activity consumes the angel-visit of the Night. Will the time never come when Love's hidden sacrifice shall burn eternally? To the Light a season was set; but everlasting and boundless is the dominion of the Night. -- Endless is the duration of sleep. Holy Sleep -