Octavio Paz
Octavio Paz
(March 31, 1914 – April 19, 1998 / Mexico City)
Biography of Octavio Paz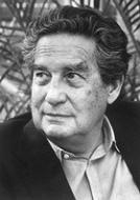 Mexican poet, essayist, and political thinker. His works reflect many influences, including Marxism, surrealism, and Aztec mythology. El laberinto de la soledad/The Labyrinth of Solitude (1950), the book which brought him to world attention, explores Mexico's heritage. His long poem Piedra del sol/Sun Stone (1957) uses contrasting images, centring on the Aztec Calendar Stone (representing the Aztec universe), to symbolize the loneliness of individuals and their search for union with others. He was awarded the Nobel Prize for Literature in 1990.

In 1962 Paz was appointed Mexican ambassador to India, but resigned in 1968 in protest against the Mexican government's killing of 200 student demonstrators on the eve of the Olympic Games. In 1971 he founded the monthly magazine Plural (later called Vuelta), which he used to analyse socialism and liberalism, urging Mexico to become independent of communist and US influences. His publications include Collected Poems: 1957–87 (1988) and One Earth, Four or Five Worlds/Tiempo Nublado (1984).

Born in Mexico City, Paz studied at the National University of Mexico, but left in 1936 to set up a school to help poor children in rural Yucatán. In 1937 he fought in the Spanish Civil War, in a Republican brigade commanded by David Siqueiros. After a time as a left-wing journalist and Mexican diplomat 1946–51, he concentrated on writing.
This page is based on the copyrighted Wikipedia Octavio Paz; it is used under the Creative Commons Attribution-ShareAlike 3.0 Unported License. You may redistribute it, verbatim or modified, providing that you comply with the terms of the CC-BY-SA.
Across
I turn the page of the day,
writing what I'm told
by the motion of your eyelashes.

I enter you,
the truthfulness of the dark.
I want proofs of darkness, want
to drink the black wine:
take my eyes and crush them.