Odell Shepard
Biography of Odell Shepard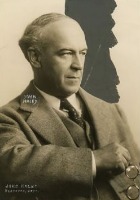 Odell Shepard (July 22, 1884 Sterling, Illinois - 1967) was an American professor, poet, and politician who was the Lieutenant Governor of Connecticut from 1941 to 1943.

He graduated from Harvard University, and taught at the English department of Yale University. A professor of English at Trinity College from 1917 to 1946, he was a mentor to Abbie Huston Evans. He edited the works of Henry David Thoreau, Louisa May Alcott, and Henry Wadsworth Longfellow.

He wrote Pedlar's Progress, a biography of Bronson Alcott, the father of writer Louisa May Alcott, and one of the foremost Transcendentalists. His papers are held at Trinity College.

He died in New London, Connecticut on the 19 June 1967.
An Old Inn By The Sea
All night long we had heard the voice of the Sea
Roaming the corridors.
Across the worn and hollow floors
There went a ghostly tread incessantly.
The walls of our old inn,
By windy winters eaten grey and thin,
Trembled and shook, the wild night long,
With resonant, vague, hoarse-throated song
Like a storm-strung violin.