Olga Bergholz
Biography of Olga Bergholz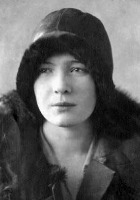 Olga Fyodorovna Bergholz (May 16, 1910 — November 13, 1975) was a Soviet poet. She is most famous for her work on the Leningrad radio during the city's blockade, when she became the symbol of city's strength and determination.

Berggolts was born in a working suburb of St. Petersburg to the family of a doctor, of German descent. Her verses were first published in 1924. In 1925 she joined a youth literature group 'The Shift' where she became acquainted with Boris Kornilov whom she married in 1926. Soon their daughter Irina was born. Boris and Olga entered the Higher State Courses in Fine Arts. Soon Boris left the courses, and Olga began studies at the Leningrad University. In 1930 she graduated from the philological faculty of the university and was sent to Kazakhstan as a journalist for the newspaper Soviet Steppe. During this period Olga divorced Kornilov and married Nikolay Molchanov.

After returning to Leningrad she started working as a journalist for the newspaper of the electric power plant (Electric Power). Her feelings and thoughts on this period were expressed in such books as The Out-of-the-way Place (1932), Night (1935), Journalists (1934), and Grains (1935). Such works by Berggolts as Poems (1934) and Uglich (1932) were approved of by Maxim Gorky.

In the late 1930s several tragedies interrupted her happy life. Her daughters Irina and Maya died, and in 1938 they were followed by Boris Kornilov, who was arrested on false charges and subsequently killed as part of the Great Purge. Olga herself was imprisoned in December, 1938. She spent 7 months in prison where she was beaten during an interrogation, causing the birth of a still-born child. The motifs of tragedy that appear in her later poetry, then, may in a way be explained by the circumstances of her life (most such poems were published in a collection called The Knot, 1965). She was subsequently released and completely exonerated in 1939.

In 1940 she joined the Communist Party. Olga Berggolts spent all the 900 days of the blockade in Leningrad. She worked at the radio, encouraging hungry and depressed citizens of the city by her speeches and poems. Her thoughts and impressions on this period, on problems of heroism, love, faithfulness can be found in "February diary" (1942), "Leningrad poem" (1942), "In memory of defenders" (1944), "Your way" (1945), and some others. Berggolts also wrote many times about heroic and glorious events in the history of Russia, such as "Pervorossyisk, 1950, (a poem about the Altay commune organized by the workers of Petrograd), Faithfulness, 1954, (a tragedy about the defence of Sevastopol in 1941–1942), and They Were Living in Leningrad, 1944, (a play about the blockade of Leningrad). Her memoirs The Day Stars were published in 1959 and filmed in 1968. Olga Berggolts died on 13 November 1975, and was buried at Literatorskie Mostki.
The Hope
I still have a hope to come back to my life
Just having waked up at the morn, good enough, -
At early, light one - all in crystal-clear dew -
Where boughs are set in the brilliant hue,
Where lakes of sundew in the thickets lie spread,
Reflecting the cloud's alacritous tread,
And I, gently linking with my youthful face,
Behold a droplet as a wonder and grace,
And run tears of joy, and so easy to feel,