Oliver Bernard
Biography of Oliver Bernard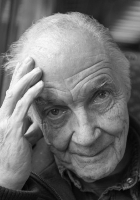 Oliver Bernard (6 December 1925 - 1 June 2013) was an English poet and translator. Bernard is most famous for translating Arthur Rimbaud into English as part of the Penguin Classics collection.
Oliver Bernard was born in London, the son of Oliver Percy Bernard OBE (architect, scenic, graphic and industrial designer) and (Edith) Dora Hodges (opera singer, stage name Fedora Rosell). He and his two brothers, art critic and photographer Bruce Bernard and the journalist Jeffrey Bernard, were prominent in London's literary and artistic scene in the mid-twentieth century.
Bernard published a book of memoirs. Tony Benn wrote of Oliver Bernard, "Oliver Bernard's Peace Poems are sensitive and perceptive in their description of the militaristic society which imprisons us all. They also offer some comforting visions of life as it could be if we release the compassion that is in us all."
Bernard was a third cousin to the celebrated film and stage actor Stanley Holloway by way of his father, Oliver Percy Bernard, who was Holloway's second cousin. He was distantly related to the former model Sophie Dahl, the granddaughter of Stanley Holloway.
Peace
waking at five or so to white
sky and various bird beginnings
from exhausting dreams of past
emotional encounters I can
rest at last in a small room

lying still considering
whether to go back to sleep
seeing the sky go colours of