Oni Buchanan
Biography of Oni Buchanan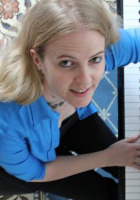 Oni Buchanan (born 1975) is an American poet, and pianist. Her most recent poetry collection is Spring (University of Illinois Press, 2008), a 2007 National Poetry Series winner. Her discography includes three solo piano CDs on the independent Velvet Ear Records label. Her concert programming is often interdisciplinary in nature. She has performed solo recitals throughout the U.S. and abroad. She graduated from the University of Virginia, from the New England Conservatory of Music, with a Master's degree in piano performance, and from the University of Iowa Writers' Workshop an M.F.A. in poetry. Her teachers included Russell Sherman, Stephen Drury, Daniel Mark Epstein, Patricia Zander, Uriel Tsachor, and Mimi Tung.
Dear Lonely Animal,
I'm writing to you from the loneliest, most
secluded island in the world. I mean,
the farthest away place from anything else.

There are so many fruits here growing on trees
or on vines that wrap and wrap. Fruits
like I've never seen except the bananas.

All night the abandoned dogs howled.