Pam Brown
Biography of Pam Brown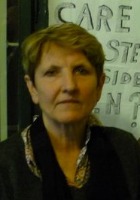 Pam Brown (born 1948) is an Australian poet.

Brown was born in Seymour, Victoria, and her childhood was spent in on military bases in Toowoomba and Brisbane. Since her early twenties, she has mostly lived in Sydney. She has made her living as a silkscreen printer, musician and film-maker, has taught writing, multi-media studies and film-making and worked from 1989 - 2006 as a librarian at University of Sydney. She lives in Sydney, Australia.

From 1997 to 2002 Pam Brown was the poetry editor of Overland and since 2004 has been the associate editor of Jacket magazine. She has been a guest at poetry festivals worldwide, taught at the University for Foreign Languages, Hanoi, and during 2003 had Australia Council writers residency in Rome.

Pam Brown's Works:

Books Published

Sureblock, (Pat Woolley, Melbourne, 1972)
Cocabola's Funny Picture Book, (Tomato Press, Sydney, 1973)
Automatic Sad, (Tomato Press, Sydney, 1974)
Cafe Sport, (Sea Cruise Books, Sydney, 1979)
Correspondences, (Red Press, Sydney, 1979)
Country & Eastern, (Never-Never Books, Sydney, 1980)
Small Blue View, (E.A.F./Magic Sam, Adelaide, 1982)
Selected Poems 1971-1982, (Redress/Wild & Woolley, Sydney, 1984)
Keep It Quiet, (Sea Cruise Books, Sydney, 1987)
New & Selected Poems, (Wild & Woolley, Sydney, 1990)
This World. This Place. (University of Queensland Press, Brisbane, 1994)
50 - 50, (Little Esther Books, Adelaide, 1997)
Text thing (Little Esther Books, Adelaide, 2002)
Dear Deliria (New & Selected Poems), (Salt Publishing, UK/US/Aus, 2003)
True Thoughts (Salt Publishing, U.K./U.S.A/Aust, 2008)
Authentic Local (Soi 3 Modern Poets, papertiger media, Aust/Thailand, 2010 )

Chapbooks

Little Droppings(Never-Never Books,Sydney 1994)
My Lightweight Intentions (Salt/Folio, U.K./Perth 1998)(2nd Edition Never-Never Books, Sydney 2006)
Drifting Topoi(Vagabond Press, Sydney, 2000)
eleven 747 poems (Wild Honey Press, Ireland, 2002)
Let's Get Lost(with Ken Bolton and Laurie Duggan)(Vagabond Press, Sydney 2005)
Peel Me A Zibibbo (Never-Never Books, Sydney, 2006)
farout_library_software(with Maged Zaher) (Tinfish Press, Hawai'i, USA 2007)
Sentimental (Longhouse Books, USA 2010)
In My Phone (Picaro Press, NSW 2011)
Anyworld (flying island books, Macau, 2012)

Electronic books

The Meh of Z Z Z Z (AhaDada Books, US/Japan 2010)
This page is based on the copyrighted Wikipedia Pam Brown; it is used under the Creative Commons Attribution-ShareAlike 3.0 Unported License. You may redistribute it, verbatim or modified, providing that you comply with the terms of the CC-BY-SA.
Cubists In Surburbia
monday's twilight dimming
on the last few brown leaves
of dreary autumn,
thin branches jut
like grissini
from camouflage-patterned trunks,
it's the plane tree the tree
the Cubists loved the most,
the light, green grey,
they loved that too.