Pandurang Sadashiv Sane
Pandurang Sadashiv Sane
[Sane Guruji] (24 December 1899 - 11 June 1950 / Palgad, Ratnagiri, Konkan, Maharashtra / India)
Biography of Pandurang Sadashiv Sane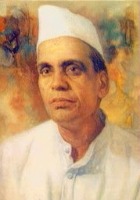 Pandurang Sadashiv Sane, affectionately known as Sane Guruji (Guruji means "Teacher") to his students and followers was a famous Marathi author, teacher, social activist, and freedom fighter from Maharashtra, India. He is referred as National Teacher of India.

Sane was born on December 24, 1899 to Sadashivrao Sane and Yashodabai Sane in Palgad town, in Ratnagiri district of the Konkan region of rural Maharashtra. He was their second son and third child. Sadashivrao was a revenue collector (called khot in Marathi) who evaluated and collected village crops on behalf of the government and got to keep 25% of those collections as his share. The family was relatively well off during Sane's early childhood but their financial condition rapidly deteriorated, leading to their house being confiscated by government authorities. Unable to face the trauma and hardship Sane's mother Yashodabai died in 1917. Mother's death due to lack of sufficient facilities as well as his inability to meet her at the death - bed haunted Sane for rest of his life.

Education

Sane completed his primary education in Palgad Village of Dapoli Taluka in Ratnagiri district. After his primary education, he was sent to Pune to live with his maternal uncle for further education. However, he did not like his stay in Pune and returned to Palgad to stay at a missionary school in Dapoli, about 6 miles from Palgad. While at Dapoli, he was quickly recognized as an intelligent student with good command over Marathi and Sanskrit languages. He was also interested in poetry. While he was in school at Dapoli, the financial condition at home deteriorated rapidly and he could not afford to continue his education. Like his elder brother, he considered taking up a job to help with the family finances. However, on the recommendation of one of his friends, and with support from his parents, he enrolled at the Aundh Institution which provided free education and food for poor students. Here at Aundh he suffered many hardships but continued his education. However, a plague broke out in Aundh and all students were sent back home. Back in Palgad, one night he overheard his parent's conversation in which his father suspected his dedication to education. Enraged and hurt by his father's suspicion, he immediately traveled to Pune and enrolled as a student at the Nutan Marathi Vidyalaya. Life was not easy for Sane in Pune either, and he had to subsist on limited meals. However, he continued to excel in academics and graduated 10th grade in 1918 after which he enrolled for further education in New Poona College (now known as Sir Parshurambhau College). He completed his B.A. and M.A. degrees from New Poona in Marathi and Sanskrit literature.

Career

Sane's father was a supporter of Lokmanya Tilak. However after his imprisonment for few days he preferred to keep away from political matters. Sane's mother was however a greater influence on his life. He graduated with a degree in Marathi and Sanskrit and earned a Master's degree in philosophy,then he decided to opt for teaching profession. Guruji worked as teacher in pratap high school in Amalner town. He chose to teach in the rural schools, forgoing a perhaps larger salary he could have earned by teaching wealthier students. He also worked as a hostel warden. Sane was a gifted orator, captivating audiences with his impassioned speeches on civil rights and justice. While in school he published a magazine named Vidyarthi which was very popular among the students. He inculcated moral values in the student community. Sane guruji was very popular in students. Students loved him a lot and guruji loved students a lot.

Political Activities

Sane Guruji was actively involved in the Indian Independence Movement and was imprisoned several times.

Participation in Indian Independence Movement

Sane Guruji resigned from his school job to join the freedom movement when Mahatma Gandhi started the Dandi March in 1930. He was imprisoned by the British in the Dhule Jail for more than 15 months for his work in the Civil Disobedience Movement. In 1932 Vinoba Bhave was in the same jail where Sane was imprisoned. Bhave delivered a series of lectures on the Bhagavad Gita on each Sunday morning. Bhave's work Geeta Pravachane was an outcome of the notes Sane Guruji had taken in the jail.

In the his second imprisonment in the Trichnapalli Jail he learned Tamil and Bengali. He translated the famous work Kurul by Thiruvalluvar in Marathi. He recognised the importance of learning Indian languages, particularly in the context of the problem of national integration; and started the Antar Bharati movement. Antarbahrati Anuvad Suvidha Kendra and the Sane Guruji Rashtriya Smarak are continuing this legacy.

Sane played a crucial role in the spread of Congress in rural Maharashtra in general and that in the Khandesh in particular. He was actively involved in the organisation of Faizpur Session of the Indian National Congress. He also participated in the Election Campaign of for the Bombay Provincial Elections of 1936. He had also participated in the 1942 Quit India Movement and was imprisoned for 15 months for the same. During this period he got closely associated with the Congress Socialists like Madhu Limaye.

Working Class Movement

In the late 1930s Sane was part of working class movement in the East Khandesh District (Amalner Dist:- Jalgoan). He played crucial role in organising the textile labour and peasants of Khandesh. During this period he was associated with the communists like Com. S. M. Dange. However the communist position to support the second world war made him dissociate himself from the communists. In the later part of his life he was closer to the Socialists like Madhu Limaye N. G. Gore, and S. M. Joshi. Sane was never part of the Hindu Nationalist organisations. He rather vehmently criticised the Rashtriya Swayamsevak Sangh and the likes.

Eradication of Caste

In response to Mahatma Gandhi's promise to Dr. Babasaheb Ambedkar during Poona Pact that he will spend rest of his life for removal of untouchability, Sane Guruji took up the cause of eradication of untouchability. To sensitise people aon the issue of the untouchables, Sane took a tour throughout Maharashtra for around four months in 1947. The culmination of this tour was his fast at Pandharpur to open the Vitthal Temple for the untouchables. The fast lasted for 11 days from 1 May to 11 May 1947, and the doors of the Vitthal temple were opened for the earstwhile untouchables.

In the post independence period however, Sane became increasingly disillusioned over the possibilities of eliminating inequality from Indian society. The assassination of Mahatma Gandhi was a seviour blow on him that disturbed him a lot. He took up fast of 21 days.

Works

He wrote about 73 books, mainly children's literature. His famous works in Marathi literature include Shyamchi Aai (Shyam's mother), "Shyam (Vols. 1 - 3), "Bharatiya Sanskriti".
He started a weekly journal named Sadhana on 15 August 1948. This journal is regularly published since then and has recently completed 60 years.
He died on 11 June 1950 by consuming sleeping pills.

Legacy

The Rashtra Seva Dal has built a national memorial in the name of Sane at Vadghar in Mangaon, Raigad district, Maharashtra. It is being developed as a camping ground for students since 2001.
This page is based on the copyrighted Wikipedia Pandurang Sadashiv Sane; it is used under the Creative Commons Attribution-ShareAlike 3.0 Unported License. You may redistribute it, verbatim or modified, providing that you comply with the terms of the CC-BY-SA.