Paramjit Kaur Sirhind
Biography of Paramjit Kaur Sirhind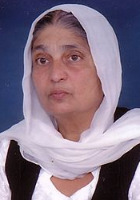 Paramjit Kaur Sirhind(Punjabi: ਪਰਮਜੀਤ ਕੌਰ ਸਰਹਿੰਦ), a Punjabi writer, was born in town of Dhuri, Punjab, India. She writes poems and articles related to Punjabi culture. In June 2009, her first book of poetry "Kehnu Dard Sunava" was released. Her articles, poems and stories are published in Punjabi periodicals on an almost daily basis.

Family Life

Paramjit Kaur's family was involved in a serious car accident in 2005, which resulted in the death of her son. In an effort to concentrate her thoughts elsewhere, she turned to writing. After much persuasion from her family, she submitted an article to the Punjabi Tribune. Paramjit Kaur is supported by her husband, Udham Singh (ex-manager of Harmandir Sahib, Gurdwara Fatehgarh Sahib and Takht Sri Kesgarh Sahib, Anandpur Sahib) and her daughter-in-law and two grandchildren. Her two twin-daughters are settled in Europe; one in England and other in Norway.

Writings

She has published several poems/articles in many reputed Punjabi newspaper; Punjabi Tribune (80 items), Desh Sewak (30 items)and Desh Videsh Times (25 items). Besides these periodicals, her articles, poems, songs and stories have been published in 'Nawan Jamana', 'Ajit', 'Jag Bani' and 'Akali Patrika'.

Overseas newspapers such as 'Sikh Virsa', 'Dastak', 'Road Times' USA, 'Media Punjab', 'Chardi Kala ' (Edmonton), 'Sant Sipahi', 'Sant Phulvari', 'Mehakh Watan Di', 'Lohmani', 'Rubaru', 'Ashiana', 'Pratimaan', 'Viishav Ekta', 'Karumblan', Sool Surahi' and 'Nirmal Dehi' have also published her work.

Her non book of poetry "Kehnu Dard Sunava" was released June 2009. Her next book 'Channan Di Nanakshak' was published by Lokgeet Parkashan, Chandigarh in January 2010. 'Channan Di Nanakshak' gives a detailed description of Punjabi culture and customs. Her forthcoming book, containing her articles, is also ready for publication under title 'Karrni De Dudh Varge Rishtey'. Her next two books "Punjabi Saabhiyachar De Nkash" and "Ambre Tukre" were released by Punjab education minister Sewa Singh Sekhwan at Fatehgarh Sahib on March 13, 2011.

Awards

On 8 March 2009 International Women's Day, Sahit Sabha Sanghol awarded her with a special award. On 15 November 2009, Sahit Sabha Amloh presented her with its award for being an acclaimed writer.

In March 2010, Paramjit Kaur and her husband were visiting their daughters in England and Norway. While abroad, she received notice that she had been awarded yet again for the success of her book 'Channan Di Nanakshak'. She dedicated this award to her five grandchildren.
This page is based on the copyrighted Wikipedia Paramjit Kaur Sirhind; it is used under the Creative Commons Attribution-ShareAlike 3.0 Unported License. You may redistribute it, verbatim or modified, providing that you comply with the terms of the CC-BY-SA.