Paritosh Dhawan
Biography of Paritosh Dhawan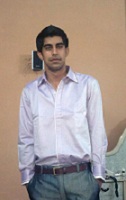 I'm a high school pass-out who thinks about things which are ignored. An indian, who finds the concepts of his society flawfilled. I started writing to express things i cant speak of. My main aim of doing poetry is to let others know what i think and how i see this world.

Paritosh Dhawan's Works:

I'm working on a book right now.
The Painting
It was about the time
When the first beam of light touched the white peak
I saw it from the window of my travelers seat
I was a little sleepy my vision was quite hazy
After only a glance I threw away the lazy
What I saw, was a million dollar view
it was view of mountains I could only see a few
covered with a blanket of shiny crystal snow
With sun hiding, standing at the end of the row