Parvin Shere
Biography of Parvin Shere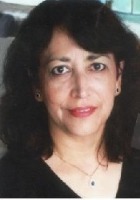 Parvin Shere is a poetess, artist and musician. She was born in India, then migrated to Canada where she has resided for over thirty years. She is married to Professor Syed Waris Shere, a product of Aligarh Muslim University (B.Sc. 1956).

Parvin Shere has been painting for over thirty years and formally developed her talents at the University of Manitoba (Canada) Fine Arts program. Her extensive travel throughout Europe and particularly in developing countries triggered in her a need to enlighten her audience about the dualistic nature of this world. The oppressed has a profound effect on her work. Parvin's visual art has been exhibited in Canada, United States of America, England, France, Germany, China and India. Her work is displayed in many prominent public and private collection internationally. She has won several awards internationally. Previously the selection committee of "Adabi Culture", Varanasi, India has awarded Parvin Shere's "Kirchian"("fragments") as one of the two best books for the year 2008. She was one of five nominees honoured during the prestigious "Woman of Distinction Awards" for her contribution in Art, Culture and Heritage in Winnipeg, Canada. She has composed CD'S of poetry and music for UNICEF to help raise funds for underprivileged children globally. In addition to organ and banjo, she plays the sitar, one of the most ancient and difficult instruments.

She currently works for the Film Classification for the Government of Manitoba, Canada. Parvin Shere was also awarded the prize for "best book" in 2010 for her latest publication titled "Raindrops on Parched Land" (Nihal-e-Dil Par Sahab Jaise), 2010 edition by Urdu Markaz International, Los Angeles, USA.

Parvin's book was recently launched in India, Pakistan, the United Kingdom and Germany. Her book is also in the collection of the British Library in London and the University of Heidelberg.
This page is based on the copyrighted Wikipedia Parvin Shere; it is used under the Creative Commons Attribution-ShareAlike 3.0 Unported License. You may redistribute it, verbatim or modified, providing that you comply with the terms of the CC-BY-SA.
Gazal -1
My life without your company,
I do not mind the pangs,
For cactus has inspired in me
The dreams of spring and you.

My shattered heart and so much light!
I do not know the cause.
Was it the shooting meteor
I saw lighten the night?