Patrick Dumas
Patrick Dumas
(August 1,1985 / Milford, CT)
Biography of Patrick Dumas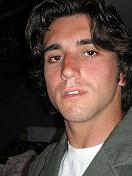 Patrick currently lives in Northridge CA and studies Communication Disorders and Sciences at Cal State Northridge to become a speech pathologist. Aside from writing, he also has a passion for music and plays guitar and piano.
Auburn Sun
Holding a train rail is like loving you-
I hold you so tight, you shake me through.
I know the train's comin', but know not when
I'll hold on to the rail until then.

Looking at the moon, do you see it too?
There's a cold wind that blows right through.
This field is empty where we once laid,
the stars burn cold beneath the shade.