Patrick Moloney
Biography of Patrick Moloney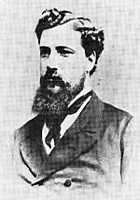 Moloney, Patrick.
Born in Hawthorn, Victoria, Australia in 1843. Educated at St. Patrick's College, Melbourne; graduated M.B., Melbourne University, 1867. He worked as a medical practitioner. Published one poem under the pseudonym 'Australis'.(Bertram Stevens, An Anthology of Australian Poetry, 1907 p.284)

Married Miss Quirk of Carlton (Vic.). Died at Ulverstone, Eng.,
September, 1904.
This page is based on the copyrighted Wikipedia Patrick Moloney; it is used under the Creative Commons Attribution-ShareAlike 3.0 Unported License. You may redistribute it, verbatim or modified, providing that you comply with the terms of the CC-BY-SA.
Patrick Moloney Poems
Melbourne
O sweet Queen-city of the golden South, Piercing the evening with thy star-lit spires, Thou wert a witness when I kissed the mouth Of her whose eyes outblazed the skyey fires.
A Regret
O sweet Queen-city of the golden South, Piercing the evening with thy star-lit spires, Thou wert a witness when I kissed the mouth Of her whose eyes outblazed the skyey fires.
Sonnets - Ad Innuptam
I I MAKE not my division of the hours By dials, clocks, or waking birds' acclaim, Nor measure seasons by the reigning flowers,
All poems of Patrick Moloney »
Share your comments »
A Regret
O sweet Queen-city of the golden South,
Piercing the evening with thy star-lit spires,
Thou wert a witness when I kissed the mouth
Of her whose eyes outblazed the skyey fires.
I saw the parallels of thy long streets,
With lamps like angels shining all a-row,
While overhead the empyrean seats
Of gods were steeped in paradisic glow.
The Pleiades with rarer fires were tipt,