Patti Wilburn Haney
Patti Wilburn Haney
(06/04/1972 / Texas)
Biography of Patti Wilburn Haney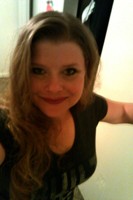 I am a true romantic who has enjoyed and written poetry as long as I can remember. I look to life, love, and nature for my inspiration. I enjoy doing yoga and spending time with those I love.
'Kitten'
Love is a purring kitten.
Soft and warm.
to be protected, cherished, ... nurtured.
...Held close..soft fur against your face.
Playful yet serious at times.
Deep, soulful eyes staring into your soul.
A cautionary tale...
Hurt my love...this kitten has claws...