Paul Celano
Paul Celano
(04-26-82 / Michigan)
Biography of Paul Celano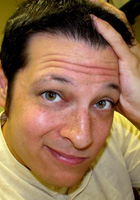 I have a sad story that helped me write. Back in High School a good friend of mine had took his own life. I wrote a poem about it for a class. The teacher told me to my face that I should never write again because my writing is not good enough.

Later in 2002 I took a class for creative writing. I told the college teacher what my high school teacher said. The teacher then told me that in the class I was in, I would have to read my poems out loud. This made me very nervous.

So the day came when I had to do this. I read the same poem I was told in high school was not good enough. Everyone stood and clapped. My college teacher told me to never stop writing.

I have been writing since then. Things I see and things that happen in my life. I love to write free-verse and sometimes a little rhyme for fun. Also I believe that a thesaurus is a poets best friend.
Only One Horrible Thorn
I like to cry and throw a fit
Even the dark day I was born
I am a sad and drooping rose
With only one horrible thorn

I did not like people around
I would sit, curse at them and scorn
I am a sad and drooping rose
With only one horrible thorn