Paul Claudel
Biography of Paul Claudel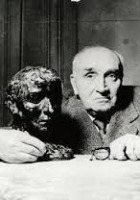 Paul Claudel (6 August 1868 – 23 February 1955) was a French poet, dramatist and diplomat, and the younger brother of the sculptor Camille Claudel. He was most famous for his verse dramas, which often convey his devout Catholicism.

He was born in Villeneuve-sur-Fère (Aisne), into a family of farmers and government officials. His father, Louis-Prosper, dealt in mortgages and bank transactions. His mother, the former Louise Cerveaux, came from a Champagne family of Catholic farmers and priests. Having spent his first years in Champagne, he studied at the lycée of Bar-le-Duc and at the Lycée Louis-le-Grand in 1881, when his parents moved to Paris. An unbeliever in his teenage years, he experienced a sudden conversion at the age of eighteen on Christmas Day 1886 while listening to a choir sing Vespers in the cathedral of Notre Dame de Paris: "In an instant, my heart was touched, and I believed." He would remain a strong Catholic for the rest of his life. He studied at the Paris Institute of Political Studies (better known as Sciences Po).

The young Claudel seriously considered entering a Benedictine monastery, but in the end began a career in the French diplomatic corps, in which he would serve from 1893 to 1936. He was first vice-consul in New York (April 1893), and later in Boston (December 1893). He was French consul in China (1895–1909), including consul in Shanghai (June 1895), and vice-consul in Fuzhou (October 1900), consul in Tianjin (Tientsin) (1906–1909), in Prague (December 1909), Frankfurt am Main (October 1911), Hamburg (October 1913), ministre plénipotentiaire in Rio de Janeiro (1916), Copenhagen (1920), ambassador in Tokyo (1922–1928), Washington, D.C. (1928–1933) and Brussels (1933–1936). While he served in Brazil during the First World War he supervised the continued provision of food supplies from South America to France. (His secretaries during the Brazil mission included Darius Milhaud, later world-famous as a composer, and who wrote incidental music to a number of Claudel's plays.) In 1930, Claudel received an LL.D. from Bates College.

In 1936 he retired to his château in Brangues (Isère).

After a long affair with Rosalie Vetch, a married woman with four children and pregnant with Claudel's child, ended in February of 1905 (Vetch left him for another man), Claudel married Reine Sainte-Marie-Perrin on 15 March 1906.