Paul Durcan
Biography of Paul Durcan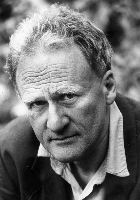 Paul Durcan (born 16 October 1944) is a contemporary Irish poet.
Durcan was born and grew up in Dublin and in Turlough, County Mayo. His father, John, was a barrister and circuit court judge; father and son had a difficult and formal relationship. Durcan enjoyed a warmer and more natural relationship with his mother, Sheila MacBride Durcan, through whom he is a great-nephew of both Maud Gonne, muse of WB Yeats and Irish social and political activist, and John MacBride, one of the leaders of the Easter Rising, which began the Irish War of Independence leading to the foundation of the Irish state.
He studied law and economics at University College Dublin.While at college, Durcan was kidnapped by his family and committed against his will to Saint John of God psychiatric hospital in Dublin, and later to a Harley Street clinic where he was subjected to electric shock treatment and heavy dosages of barbiturates and Mandrax.
Durcan moved to live in London in 1966 where he worked at the North Thames Gas Board. He met Nessa O'Neill in 1968; they married and had two daughters, Sarah and Siabhra. They lived in South Kensington, then moved to Cork where his wife taught in a prison. The marriage ended at the beginning of 1984.
The Head Transplant
The doctor said to me: Your father needs a new head. So I said to the doctor: You can give him my head.

My days were numbered - broken marriage, cancer, False teeth, bad dreams- so 'Yes' was his answer.

Now I lie in my bed wondering away in my head What will my father look like with his new head?

Will he look like a bull with the head of a daffodil

Or like a nonagenarian pontiff with the head of a harlot?