Paul Engle
Biography of Paul Engle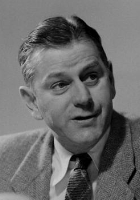 Paul Engle (October 12, 1908 – March 22, 1991), noted American poet, editor, teacher, literary critic, novelist, and playwright. He is perhaps best remembered as the long-time director of the Iowa Writers' Workshop and as founder of the International Writing Program (IWP), both at the University of Iowa.

Engle is often mistakenly credited with having founded the Iowa Writers' Workshop (an honor that more appropriately belongs to his predecessor, Wilbur Schramm). Nonetheless, perhaps no one helped to better establish the reputation of the venerable writing program than Engle. During his tenure as director (1941–1965), he was responsible for luring some of the finest writers of the day to Iowa City. Robert Lowell, John Berryman, Robie Macauley, Kurt Vonnegut and many other prominent novelists and poets served as faculty under Engle. Additionally, Engle increased enrollment and oversaw numerous students of future fame and influence, including Flannery O'Connor, Philip Levine, Mark Costello, Marvin Bell, Joe Nicholson, Sunil Gangopadhyay, Donald Justice, Raymond Carver, Andre Dubus and Robert Bly. During his tenure, Engle raised millions of dollars in support of the program whose shape and direction proved the model for the hundreds of writing programs that have followed.

Vonnegut described Engle in a 1967 letter in this fashion: "The former head, Paul Engle, is still around, is a hayseed clown, a foxy grandpa, a terrific promoter, who, if you listen closely, talks like a man with a paper asshole."

In 1967, following his departure as director of the workshop, Engle and future second wife Nieh Hualing co-founded The University of Iowa's International Writing Program, which provided for dozens of published authors from around the world to visit Iowa City each year to write and collaborate. Engle left the Writer's Workshop permanently in 1969 to devote himself full-time to the international program.

Born Paul Hamilton Engle in Cedar Rapids, Iowa, to Thomas Allen, a livery stable owner, and Evelyn (Reinheiner) Engle, Engle grew up in the Wellington Heights section of Cedar Rapids. He graduated from Washington High School (Cedar Rapids, Iowa), and later attended Coe College, The University of Iowa, Columbia University, and Oxford University (where he studied as a Rhodes Scholar). As a student at Iowa, Engle was one of the earliest recipients of an advanced degree awarded for creative work: his first collection Worn Earth, which went on to win the Yale Series of Younger Poets. His second book, American Song (1934), was given a rave front-page review in the New York Times Book Review and was even, briefly, a bestseller. From 1954 to 1959, Engle served as series editor for the O. Henry Prize.

At the time of his death (in Chicago's O'Hare Airport on his way to accept an award in Poland), Engle was the author of more than a dozen collections of poetry, a novel, a memoir, an opera libretto (for Philip Bezanson), and even a children's book. In addition, Engle wrote numerous articles and reviews for many of the largest periodicals of his day.

His papers are held at the University of Iowa and Coe College.
Hero
I
I have heard the horn of Roland goldly screaming
In the petty Pyrenees of the inner ear
And seen the frightful Saracens of fear
Pour from the passes, fought them, brave in dreaming.

But waked, and heard my own voice tinly screaming
In the whorled and whirling valleys of the ear,
And beat the savage bed back in my fear,