Paul Gerard Reed
Biography of Paul Gerard Reed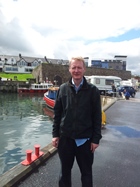 All my poems since 2010 are on poemsforlifebypaul.blogspot.com.
I wrote 365 poems between October 2010 and 2011.
I would like to write over 1,000 poems but as I have found numerical challenges usually reduce the quality (if there was any to begin with) .
Inspirations - all poets with a feeling for nature and 'insignificant' things that are actually significant.
Motivations - to express emotions, make people laugh or otherwise connect with the writing emotionally.
Clouds
Clouds
The rolling clouds gather overhead
Masking the sun from view
What strength those clouds must have
What integrity so true;
To change aspects from bright to bleak
To change the blue to grey
To swirl their cloak around the earth
And stand in daylight's way