Paul Gottselig
Paul Gottselig
(June 12,1994 / Spokane, WA)
Biography of Paul Gottselig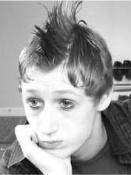 Ever since I was little, I've always loved to write. Writing is a great way to express myself in light of my individuality. As I've gotten older, I've often realized that writing is also a good means of escape, or an outlet for all my feelings and emotions. I'm not very comfortable letting other people read my work, but I guess it's good for me to share my good qualities with everyone. Not all of my poems will be put on the site, some of them are very personal and are for my girl only. For a while, I sort of drifted away from poetry. I guess you could say I lost my inspiration. But I found it again. And quite recently too. My girlfriend Chevelle has helped me to see the power in my writing, and how useful it can prove to be in life. So I owe her a great debt of gratitude. I can honesly never thank her enough. We all need inspiration, and sometimes it can prove difficult to find, but when you do, and you all will, you'll never feel better in your whole life. Anyways, I hope you all enjoy my poems. Feel free to leave comments or suggestions. Constructive criticism only please. Thank you all.

Paul Gottselig's Works:

I hope to be published some day.
Who Am I
I dedicate this poem to Chevelle Behar. You've helped to show me Who I Am. Thanks for everything!

My feet are weary from roads past traveled.

My mind is ablaze with wondering thoughts.

My eyes glisten like stars as I unravel new
ideas and limitless possibilities.