Paul Verlaine
Biography of Paul Verlaine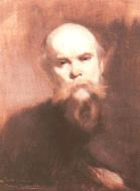 Paul-Marie Verlaine (30 March 1844 – 8 January 1896) was a French poet associated with the Symbolist movement. He is considered one of the greatest representatives of the fin de siècle in international and French poetry.

Born in Metz, he was educated at the Lycée impérial Bonaparte (now the Lycée Condorcet) in Paris and then took up a post in the civil service. He began writing poetry at an early age, and was initially influenced by the Parnassien movement and its leader, Leconte de Lisle. Verlaine's first published poem was published in 1863 in La Revue du progrès, a publication founded by poet Louis-Xavier de Ricard. Verlaine was a frequenter of the salon of the Marquise de Ricard at 10 Boulevard des Batignolles and other social venues, where he rubbed shoulders with prominent artistic figures of the day: Anatole France; Emmanuel Chabrier; inventor-poet and humorist Charles Cros; the cynical anti-bourgeois idealist Villiers de l'Isle-Adam; Theodore de Banville; François Coppée; Jose-Maria de Heredia; Leconte de Lisle; Catulle Mendes, and others. Verlaine's first published collection, Poèmes saturniens, though adversely commented upon by Sainte-Beuve, established him as a poet of promise and originality.
Apres Trois Ans
When I had pushed the narrow garden-door,
Once more I stood within the green retreat;
Softly the morning sunshine lighted it,
And every flow'r a humid spangle wore.

Nothing is changed. I see it all once more:
The vine-clad arbor with its rustic seat. . . .
The waterjet still plashes silver sweet,
The ancient aspen rustles as of yore.