Penelope Fitzgerald
Biography of Penelope Fitzgerald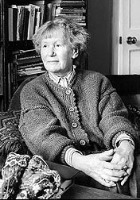 Penelope Fitzgerald (17 December 1916 – 28 April 2000) was a Booker Prize-winning English novelist, poet, essayist and biographer. In 2008, The Times included her in a list of "The 50 greatest British writers since 1945". In 2012, The Observer named her final novel, The Blue Flower, as one of "The 10 best historical novels".

She was the daughter of Punch editor Edmund Knox and Christina Hicks, one of the first woman students at Oxford. She was the niece of theologian and crime writer Ronald Knox, cryptographer Dilly Knox and Bible scholar Wilfred Knox. Fitzgerald later wrote,

When I was young I took my father and my three uncles for granted, and it never occurred to me that everyone else wasn't like them. Later on, I found that this was a mistake, but I've never quite managed to adapt myself to it. I suppose they were unusual, but I still think that they were right, and insofar as the world disagrees with them, I disagree with the world.

She was educated at Wycombe Abbey and Somerville College, Oxford; she worked for the BBC during World War II. In 1941, she married Desmond Fitzgerald, an Irish soldier; they had three children, a son and two daughters. In the 1960s, she taught at the Italia Conti Academy, a drama school and at Queen's Gate School for Girls. She also worked in a bookshop in Southwold, Suffolk. For a time she lived in Battersea on the Thames, on a houseboat that reportedly sank twice.