Biography of Pernette Du Guillet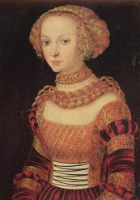 Pernette Du Guillet (Lyon, c. 1520 - July 7, 1545) was a female French poet of the Renaissance.

She was born in a noble family and married in 1537 or 1538 a man with the last name Du Guillet. In the spring of 1536, she met the poet Maurice Scève (she was 16; he was 35), and she would serve as Scève's poetic muse, inspiring his Délie. From this work has come the reputation of her beauty and significant culture. After her death, her poetry was published in Rymes de Gentille et Vertueuse Dame, Pernette du Guillet.
This page is based on the copyrighted Wikipedia Pernette Du Guillet; it is used under the Creative Commons Attribution-ShareAlike 3.0 Unported License. You may redistribute it, verbatim or modified, providing that you comply with the terms of the CC-BY-SA.
Pernette Du Guillet Poems
Aucuns ont dit la Théorique
Étre devant que la Pratique :
Ce que bien nier on pouvait.
Tu te plains que plus ne rimasse,
Bien qu'un temps fut que plus aimasse
À étendre vers rimassés,
À qui plus est un Amant obligé :
Ou à Amour, ou vraiment à sa Dame ?
Car son service est par eux rédigé