Perumal Rasu
Perumal Rasu
(19 November 1931 - / Krishnagiri, Tamilnadu / India)
Biography of Perumal Rasu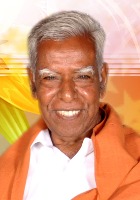 R. Perumal Rasu. (Tamil: இரா. பெருமாள் ராசு;) is an Indian poet and a writer from Krishnagiri, Krishnagiri District, Tamilnadu.

Perumal Rasu is an extremely multi talented person, who is well known for his wit and wisdom. Not only does he have great capability and versatility as a poet, writer, but he is also a gifted, extremely talented painter, martial artist, great thinker and a respected Spiritual master. He is a mystic and a great soul (Sanskrit: Mahatma) that made his followers to call him respectfully as Karumalai Siddhar (Tamil: கருமலை சித்தர், English: Saint of Krishnagiri).

He is an ardent devotee of Yogi Ramsuratkumar who is popularly known as "Visiri samiyar" (Tamil: விசிறி சாமியார் ). Yogi's love and compassion for Perumal Rasu and his wife Mahalakshmi was so much that whenever the couple visited Yogi, Yogi would receive them with love and compassion and would spend time with the couple.

Perumal Rasu's Works:

Pranava Pravagam (Tamil: பிரணவப் பிரவாகம்)
Prapanja Kavidhaigal (Tamil: பிரபஞ்சக் கவிதைகள்)
Aanandha Paravasam (Tamil: ஆனந்த பரவசம்)
Gnana Thooral (Tamil: ஞானத் தூறல்)
Vidiyalai Thaedi (Tamil: விடியலைத் தேடி)
Koodal Sangamam (Tamil: கூடல் சங்கமம்)
Unnai Thaedu (Tamil: உன்னைத் தேடு)
Idho oru idhigaasam (Tamil: இதோ ஒரு இதிகாசம்)
His thought provoking Maathiyosi (Tamil: மாத்தியோசி) was serialized in a popular regional weekly, Ananda Vikatan and won accolades. Owing to its huge popularity, the series was released as a book.
This page is based on the copyrighted Wikipedia Perumal Rasu; it is used under the Creative Commons Attribution-ShareAlike 3.0 Unported License. You may redistribute it, verbatim or modified, providing that you comply with the terms of the CC-BY-SA.