Peter Anton Orlovsky
Biography of Peter Anton Orlovsky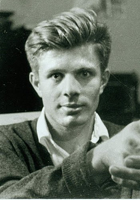 Peter Anton Orlovsky (July 8, 1933 – May 30, 2010) was an American poet and actor. He was the longtime partner of Allen Ginsberg.
Orlovsky was born in the Lower East Side of New York City, the son of Katherine (née Schwarten) and Oleg Orlovsky, a Russian immigrant. He was raised in poverty and was forced to drop out of Newtown High School in his senior year so he could support his impoverished family. After many odd jobs, he began working as an orderly at Creedmoor State Mental Hospital, known today as Creedmoor Psychiatric Center.
In 1953 Orlovsky was drafted into the United States Army for the Korean War at the age of 19. Army psychiatrists ordered his transfer off the front to work as a medic in a San Francisco hospital. He later went to Columbia University.
He met Ginsberg while working as a model for the painter Robert La Vigne in San Francisco in December 1954. Prior to meeting Ginsberg, Orlovsky had made no deliberate attempts at becoming a poet.
With Ginsberg's encouragement, Orlovsky began writing in 1957 while the pair were living in Paris. Accompanied by other beat writers, Orlovsky traveled extensively for several years throughout the Middle East, Northern Africa, India, and Europe. Orlovsky was Ginsberg's lover in an open relationship until Ginsberg's death in 1997.
In 1974, Orlovsky joined the faculty of the Jack Kerouac School of Disembodied Poetics at the Naropa Institute in Boulder, Colorado, teaching poetry. In 1979 he received a $10,000 grant from the National Endowment for the Arts to continue his creative endeavors.
In May 2010, friends reported that Orlovsky, who had had lung cancer for several months, was moved from his home in St. Johnsbury, Vermont, to the Vermont Respite House in Williston. He died there on May 30, 2010, from complications of the disease; he was 76. He was buried in Shambhala Mountain Center in Red Feather Lakes, Colorado. His epitaph reads: "Train will tug my grave, my breathe hueing gentil vapor between weel & track".
Peter Anton Orlovsky Poems
Snail Poem
Make my grave shape of heart so like a flower be free aired & handsome felt,
SECOND POEM
Morning again, nothing has to be done, maybe buy a piano or make fudge. At least clean the room up for sure like my farther I've done flick
FRIST POEM
A rainbow comes pouring into my window, I am electrified. Songs burst from my breast, all my crying stops, mistory fills the air.
All poems of Peter Anton Orlovsky »
Share your comments »
Snail Poem
Make my grave shape of heart so like a flower be free aired
& handsome felt,
Grave root pillow, tung up from grave & wigle at
blown up clowd.
Ear turnes close to underlayer of green felt moss & sound
of rain dribble thru this layer
down to the roots that will tickle my ear.
Hay grave, my toes need cutting so file away
in sound curve or