Peter Viereck
Biography of Peter Viereck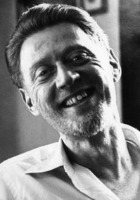 Peter Robert Edwin Viereck (August 5, 1916 – May 13, 2006), was an American poet and political thinker, as well as a professor of history at Mount Holyoke College for five decades.

,Viereck was born in New York, the son of George Sylvester Viereck. He received his B.A. summa cum laude in history in 1937 from Harvard University. He then specialized in European history, receiving his M.A. in 1939 and his Ph.D. in 1942 in history, again from Harvard.
Kilroy
Also Ulysses once- that other war.
(Is it because we find his scrawl
Today on every privy door
That we forget his ancient role?)
Also was there- he did it for the wages-
When a Cathay-drunk Genoese set sail.
Whenever 'longen folk to goon on pilgrimages,'
Kilroy is there;
he tells The Miller's Tale.