Philip Gross
Biography of Philip Gross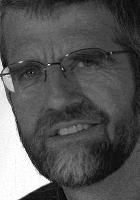 Philip Gross (born 1952) is a poet, novelist, playwright and academic, based in Britain.
Philip Gross was born in 1952 in Britain, at Delabole, in north Cornwall, near the sea. He was the only child of Juhan Gross, an Estonian wartime refugee, and the daughter of the local village school-master. He grew up and was educated in Plymouth. In junior school he began writing stories, and when in his teens he began writing poetry. He went on to study at Sussex University, where he took his B.A. in English. He worked for a correspondence college and in several libraries (he has a diploma in librarianship).
In the 1980s he married his first wife, Helen. He and she had a son and a daughter. While they were living in Bristol he had his first books published. He began travelling around schools in Britain as a workshop leader. Later he joined Bath Spa University to teach Creative Studies. In 2000 he married his second wife, Zélie. In 2004 he was appointed Professor of Creative Writing at the University of Glamorgan, a position he still holds. In 2007 he received his D. Litt. from the university. He lives at Penarth, near the sea. He is a Quaker (member of the Society of Friends).
He won the T.S. Eliot Prize for his collection of poems, The Water Table (2009), a Gregory Award (1981) and the National Poetry Competition (1982).
He is a judge for the 2014 Hippocrates Prize for Poetry and Medicine.
The Key to the Kingdom
It's not exile, homes and families behind
us, where we meet. It happens anywhere,
now: a stateless
state of no name, quietly seceding
from the crumbling empires round us,

without stamps or Eurovision entries.
No-one does it with a rough guide in a week.
You inhabit it