Philippe Jaccottet
Biography of Philippe Jaccottet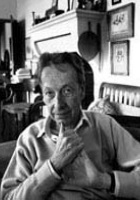 Philippe Jaccottet was born in Moudon, Switzerland on 30 June 1925. He is a francophone poet and translator from the Canton of Vaud, in Switzerland.

After completing his studies in Lausanne, he lived several years in Paris. In 1953, moved to the town of Grignan in Provence. He has translated numerous authors and poets into French, including Goethe, Hölderlin, Mann, Mandelstam, Góngora, Leopardi, Musil, Rilke, Homer and Ungaretti. He was awarded the German international Petrarca-Preis in 1988 for his poetry.

In 2014, Philippe Jaccottet became the fifteenth author to be published alive in the prestigious Bibliothèque de la Pléiade. After Jean-Jacques Rousseau, Blaise Cendrars and Charles-Ferdinand Ramuz, he is the fourth Swiss author to be published in the Bibliothèque de la Pléiade.
Distances
Swifts turn in the heights of the air;
higher still turn the invisible stars.
When day withdraws to the ends of the earth
their fires shine on a dark expanse of sand.

We live in a world of motion and distance.
The heart flies from tree to bird,
from bird to distant star,
from star to love; and love grows