Piegan Apsaroke
Piegan Apsaroke
(3 December 1980 / Gibraltar)
Biography of Piegan Apsaroke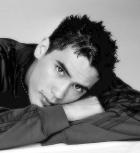 Of mixed descent from northern Amerindian ancestors and British colonists, I live in a strange place among strange monkeys and the Pillars of Hercules feeling displaced and confused... so I write poetry to find my roots in Manitou's heaven...

...and I love and I dream, I dream and I love, I love to dream, and I dream to love!
Now, I Hope
In this universe of mirrors and metaphors,
I reflect and parallel all realities.
All realities are in each mind,
But deep.
The infinite process
Is made finite
In each thing,
A cross section of eternity.