Pijush Biswas
Pijush Biswas
[Blue Sky/Abbie Clare/Harsha] (12 July,1988 / Srirampur, Nadia, West Bengal, India)
Biography of Pijush Biswas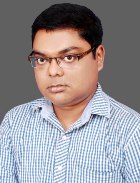 Pijush Biswas is a poet, aphorist, essayist as well as short-story writer.He was born on 12 July,1988 at Srirampur, Nadia in West Bengal.He has great interest in writing poems both in English and Bengali languages.By one decade he pursued widely the education.He is the only son of his parents.His father's name is Manoranjan Biswas, was a business man and mother is Papi Biswas, a home-maker.Pijush's poetic career began with a influence of his personal love-life.He began writing since October,2012.

Childhood:

He was brought up in an adjoining family since he was born in 1988.Though he was alone by his parents, he took great share of life with his cousins for about 15 years.He was very shy in nature and always refused to take part in different programmes, yet he was quite good in study.His childhood mostly spent in Srirampur, Nadia, West Bengal at his father's home.

His Believe:

Pijush believes in the existence of Gods.Even he himself possesses their power partly in belief that is so called by him.He mentions some of the ancient Muses named Erato[Love poetry], Polyhymnia[Hymns], Euterpe[Music, Song and Lyric poetry] whom he believes in often, moreover giving emphasis on Saraswati; but the Muses who guide him as he believes and named by him are " Glossary" and " Fietta" .He believes that they increase his sentiment and inspire to think.

Education:

Pijush went to ' Rajarmath R.K.A High School(H.S) ' in his school life where he continued his study till 2005, and passed Madhyamik and Higher Secondary respectively
in 2003 and 2005. He earned Graduation under ' University Of Calcutta' in 2008 from ' Dinabandhu Mahavidhyalaya, Bongaon' where he continued to go for three years.He was Graduate with English language.

Early Career:

While he was 17 years old, duely his graduation he served as Para-Teacher at a primary school for 4 months and earned 6500 rupees as per 1500 rupees a month.

Present Life:

Having got services in a govt. aided school in 2013 he was shifted to Malda, West Bengal as professional where he has rented a little home to stay.There he lives with his mother as he is unmarried and father is recently died on 25 December,2015.

Address:

Permanent: [Vill-Srirampur, P.O-Rajarmath, P.S-Chakdaha, Dist-Nadia, State-West Bengal, Country-India, PIN-741223]

Mobile No: 9609089437 / 8016842787

Email:
pijushbiswas777@gmail.com / pijushbiswas60@yahoo.com

Marital Status: Unmarried/Single

Works:

Poetry: Including poems like " As I Wander To Seek Beauty" , " Preface To Departure" , " I Wander By The Margin of Bay" , " On A Christmas Eve" , " and many others Pijush has already written almost 290 english poems and 17 bengali poems since 2012.

Short-stories: Not many than other but he has written stories like titled " A Royal Master" , " Tadpole Family And Snake" , " Bhutki Buri Jungle" etc.

Essays: " On Success And Failure" is his only essay written until December,2016 came with an extraordinary meaning in his life.

Published:

His works are yet not published, but recently the " Eber & Wein Publishing" has decided his poem titled " My Shadow Plays" to be published in their upcoming international anthology " Upon Arrival" in United States.

Alcuni discorsi da Pijush Biswas (Traduzeoni in Italiano) :

Io sono Pijush Biswas, Nato il 12 luglio,1988, avendo un grande interesse a scrivere poesie e versi dal 2012 ha iniziato a scrivere.Si tratta di 4 anni che ho lottato per avere un posto migliore nella mente delle persone.Sacco di risposte oneste gi`a ci sono, ma ho bisongo di risposte molto di pi`u per diventare un bravo scrittore e poeta.
To The Great Tailor
O the great tailor, the God's unique creation
Let me touch your feet, get your blessing.
Adorned your hands by Him and your endless mission
And whatever you create, to all really pleasing
Tactfull your hands are, I know;
And to make cloths beautifully your vow.

The days are running on, fatefull your existences are
Though you're of mortal beings, your creation will remain forever.