Pijush Biswas
Biography of Pijush Biswas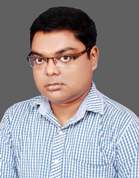 Pijush Biswas is author of two books -" Some Suitable Words " and " Sobinoy" . His books are published by self through " power-publishers" in Kolkata, February,2018 and both the books together contain total 68 poems and
are reserved by poet.Also his some bengali poems like " A Desh" , " Doshyu Cheler Kotha" are published in a local small magazine " Sahitya Sathi" . He passed B. A in 2008 from 'Dinabandhu Mahavidyalaya', Bongaon and passed M.A in 2010 from 'D.B.S College', Kanpur.

Pijush Biswas is a great poet in English and Bengali languages.He is very possessive, gentle and polite. Almost he has studied every person's life and gainings that considerably he feels himself a king.Great imaginative powers of his thinking are vivid in most of his writings. He doesn't like to stay alone. Even he has great reading power which is reflected on India after reading his 'Shrimatvagbat Gita' and 'Mahabharata'. He was born on 5 October,1986 in Srirampur, Nadia, West Bengal, India; but '12 July,1988' is his birthday as officially certified by school. He has great interest in writing poems both in English and Bengali languages.By one decade he pursued widely the education. Pijush's poetic career began with a influence of his personal love-life.He began writing since October,2012.

His Family:

Pijush is the only son of his parents.His father's name is Manoranjan Biswas, was a businessman and mother is Popi Biswas, a home-maker. Pijush Biswas's mother is from Manoranjan Bain's family and Bain's second daughter. Bain was a businessman and a owner of some lands which later decreased in number by his son and some of which Pijush's mother came into comfortable inheritance by a small money transaction. Manoranjan Bain's wife Sabitry Bain was very careful about their four daughters and one son from their childhood.

His Believe:

Pijush believes in the existence of Gods.Even he himself possesses their power partly in belief that is so called by him.He mentions some of the ancient Muses named Erato[Love poetry], Polyhymnia[Hymns], Euterpe[Music, Song and Lyric poetry] whom he believes in often, moreover giving emphasis on Saraswati; but the Muses who guide him as he believes and named by him are " Glossary" and " Fietta" .He believes that they increase his sentiment and inspire to think.All over he is Hindu in religion.

Early Career:

Though he got a services at a local govt. primary school in 2008, he could not continue his services there as Para-teacher, only because he was then in under graduation course to complete and some mental pressures which made him suffer did not let him go out of it.

Present Life:

He passed 'Teacher Eligibility Test' in 2011, held by 'The West Bengal School Service Commission' and obtained certificate with 57 marks out of 90 marks total. Having got services in a govt. aided school in 2013 he was shifted to Gazole, Malda, West Bengal as professional teacher where he has rented a little home to stay.There he lived with his mother for early 4 years as he was unmarried and father was recently died on 25 December,2015.Later he lived there alone though occasionally he came home at Srirampur to meet his mother. Now he is not attending his school for some political and previous health problems. Since 18 December,2013 to 30 February,2018 he continued his services at that govt. school as assistant school teacher. Now he is at his home, Srirampur, Nadia living with his mother and started and continuing his own home shop.

Incidents:

Pijush while returned home in 2018 after his services had been finished from Malda, for some days he used to stay laying alone on his bed. One day he was so depressed that decided to buy a photo of Saraswati to worship her in his room. So he hung the photo on northern wall. Few days later while he was sitting on bed, he felt and listened goddess Saraswati and god Brahma enter his room at evening time, and so he decided not to move a little from place. He listened goddess Saraswati uttering some of her 'Eulogies' or 'Mantras', as if, he felt the goddess was giving blessings to him on his wit and knowledge so that his all writings and poems become adorable and lasting all around the world. Even while he was sitting, from the direction of the photo some unseen rays fall upon his back and it was fortunately that Pijush could watch some of his statues, vivid in his eyes, and Saraswati meanwhile uttered saying " These are yours own " which was in unknowing language but this was translated in his breast and come out as bengali in his belly.

Pijush Biswas is mainly vegetarian, but often he eats non-veg food in some occasions. He likes popcorn and cold-drinks only.

He is casual in clothings at home. But he mostly likes western style of dresses. Besides he wears Bengali cultural dresses.

Permanent Address:

[Vill-Srirampur, P.O-Rajarmath, P.S-Chakdaha, Dist-Nadia, State-West Bengal, Country-India, PIN-741223]. Distance between his home and city Kolkata is only 75 KM.

Mobile No: 6297615473.

Email:

pijushbiswas777@gmail.com.

Marital Status:

Pijush Biswas is still now unmarried, for an unsuitable love affair. When he was 15 years old, one girl came in his life and they began to love each - other, but later the affair broke for some distance between the places different they lived in. But it had gone a long time that Pijush is not related with any girl and these are 15 years that he has been single. Now he is 32 years old at the end of 2019 and thinking to be religious, and he worships three Hindu main deities " Shri Krishna " , " Shri Ganesha " and " Goddess Saraswati " , for he has decided not to marry in life.
A Maid-Servant
Here a maid-servant tired of washing dishes
'Let me sleep now, let me go' oft she claims
As little earnings do not satisfy, highly she wishes
But whene'er she evades works, on her the house-mother blames.

Here a maid-servant often wanders from door to door
Searches for a new service for she needs money more
But she never realizes that she is quite lazy in inner-side
Who will make her understand that devotion is the way